COMPOSITIONS & ARRANGEMENTS
OLIVIER BENOIT
NOVEMBER 2014 PREMIERED

OLIVIER BENOIT guitar
JEAN DOUSTEYSSIER clarinets
ALEXANDRA GRIMAL tenor saxophone
HUGUES MAYOT alto saxophone
FABRICE MARTINEZ trumpet
FIDEL FOURNEYRON trombone
THÉO CECCALDI violin
SOPHIE AGNEL piano
PAUL BROUSSEAU Fender Rhodes, effects
SYLVAIN DANIEL electric bass
ERIC ECHAMPARD drums
After EUROPA PARIS and its inward, cinematic gaze resting on the French capital, Olivier Benoit turned to an exploration of Berlin for the second chapter of EUROPA.
This time he showed the detachment and curiosity of the "stranger" as he wandered through a city with a population that was young, creative and cosmopolitan; and when his musicians met up with him again he was able to restore this highly personal evocation of plural moods. Paying even more heed to its architecture and what this revealed about Berlin's somewhat problematic rapport with the past, this time the composer centred his efforts on history and the memory, whose traces the German capital, in all its forms, has never ceased to exhibit (nor to erase…). A strange Berlin, still clutching to its breast the scars of a 20th century that symbolizes all its errors, but which grasps the remains of this heavy, omnipresent past with ever-increasing strength in order to underline its reunification, its desire for freedom, and its openness to the world.
Declined in dense compositions with lyrical imprints, this shimmering portrait of Berlin questions the various manners in which the Germans have confronted their recent past. Olivier Benoit captured the heterogeneous spirit of the city with contrasted music that makes brilliant use of all the orchestra's resources. Faithful to his singular compositional methods associating the dynamics of timbres with a true "feel" for architecture in motion and a hypnotic rhythmical pulse, with EUROPA BERLIN the composer opened up new perspectives in both sound and form, and which drew on the different musical currents that "inhabit" the German capital: minimalist music, free jazz, progressive rock and electronic music.
---
---

EUROPA BERLIN
THE SECOND ALBUM FROM ONJ
RELEASED APRIL 27, 2015
ONJ Records – L'Autre Distribution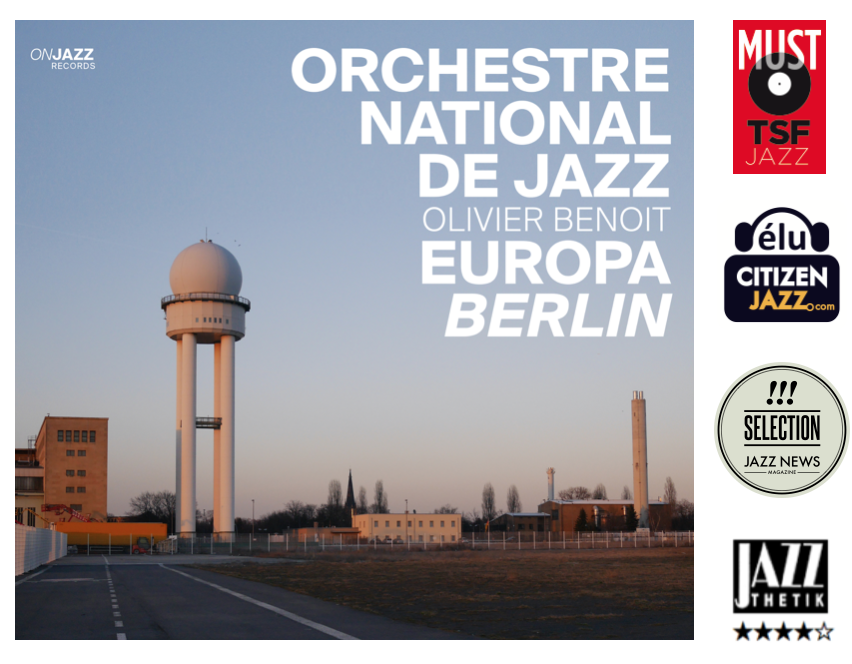 Video director Romain Al'l – more informations
---
Programme first performed in residency at the Jazz-Institut, Berlin, in November 2014.
Premiered in concert at La Filature, Scène nationale, Mulhouse, November 12, 2014.
Co-produced by La Filature and the Détours de Babel Festival, Grenoble.
With the support of Spediam, FCM and the Institut français.

---
Photo © Olivier Benoit