COMPOSITIONS & ARRANGEMENTS
OLIVIER BENOIT
FEBRUARY 2014 PREMIERED

OLIVIER BENOIT guitar
JEAN DOUSTEYSSIER clarinets
ALEXANDRA GRIMAL tenor and soprano saxophones
HUGUES MAYOT alto saxophone
FABRICE MARTINEZ trumpet, flugelhorn
FIDEL FOURNEYRON trombone, tuba
THÉO CECCALDI violin, viola
SOPHIE AGNEL piano
PAUL BROUSSEAU Fender Rhodes, effects
SYLVAIN DANIEL electric bass
ERIC ECHAMPARD drums
To inaugurate his urban investigations Olivier Benoit naturally chose Paris, a city he knows intimately for having lived and worked there for twenty years; the musicians in his orchestra have an intimate knowledge of Paris as well, most of them being Parisians by adoption. In this sense, EUROPA Paris intends to be a "manifesto" for the French capital's artistic effervescence, as Paris continues to attract artists of all horizons (both geographical and aesthetic) who dissolve into a crucible whose diversity and inventiveness are extraordinary. Creating EUROPA PARIS unquestionably put the seal on the new group, bonding its members together in a symbol of the capital's vitality!
EUROPA PARIS is a creation inspired just as much by the urban and architectural traits of the city, because Paris has always preserved a genuinely ancient past while deploying its modern side; a Paris that is dense and contrasted, and whose unique topography reveals the incredible strength of movements generated by all the human activity constituting its daily reality: luminous flux, transport networks, road traffic, crowds shifting across its streets…
This first EUROPA piece represents Olivier Benoit's gaze coming to rest on the above flux as they vary, organized or improvised, and the music coming from his imagination has given singular shape to those more or less sustained rhythms, those increased accelerations. In a long orchestral suite that is fluid and expressionist, and whose tableaux waver between powerful masses of sound and moments more related to a private world of feelings and relationships, Paris plunges us into a teeming universe where the writing and composing makes room for moments of free improvisation, resulting in a masterful mixture of jazz, rock, repetitive and minimalist music… Like a living photograph of the capital, boldly performed by the very same musicians in the orchestra who belong to this urban inspiration, the score of this first piece reveals its incomparable structure before finally allowing you to capture the poetic secret of Paris that emerges.
EUROPA PARIS
FIRST ALBUM FROM ONJ
released June 2, 2014
Ref. 424444 – ONJ Records – L'Autre Distribution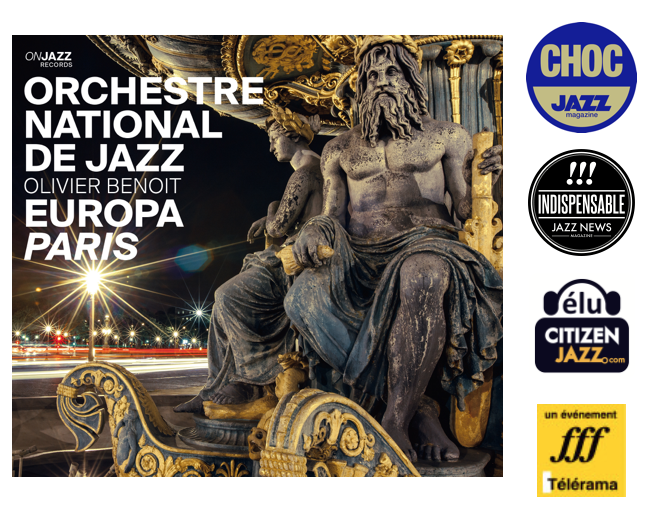 Video director © Juan Sebastian Torales
---
Programme first perfomed in residency at La Fabrique, Nantes, in January 2014.
Premiered in concert at the Sons d'Hiver Festival, February 1, 2014.
With the support of Sacem and CNV.
---
Photo © Trak – Benjamin Trancart