Release date: May 25, 2018
ONJ Records JF008 / L'Autre Distribution

FIDEL FOURNEYRON  trombone, composition
JOACHIM FLORENT double bass
SYLVAIN DARRIFOURCQ drums

================================================
A goldsmith in matters of orchestration, and an instrumentalist with a passion for the drama to be found in music, Fidel Fourneyron has gradually developed a singular style that is immediately recognizable, and which moves in a determinedly post-jazz universe that remains open to today's music forms.

After the success of both his albums by the trio Un Poco Loco, and that of his rumba-oriented big band creation, the Franco-Cuban ¿Que Vola?, the ONJ trombonist Fidel Fourneyron now presents Animal, a brand-new trio playing his own compositions and for the first time associating Fidel with two of the most visible musicians on the current jazz scene: bass player Joachim Florent and drummer Sylvain Darrifourcq.
Fidel's original material here constitutes a vibrant, gleeful homage to the animal world, and works on the melody and inflexions in the blues, researching original sounds, the groove, as always, hopping between channels of surprise as sources of inspiration in the group's improvisations, and with emphasis on elegant lines and counterpoint to form a launch pad for the euphoria of collective playing. Here the trombonist invites this peerless rhythm machine to investigate a bestiary of choice, with each theme conceived around a pose, a movement or a particularity observed among animals. And the trio's musical discourse reveals its clarity and its strength in that observation.
Animality marks the point of departure for music that inclines towards intuition, with animal cries reminiscent of the blues and its sparseness. This also strongly impregnates the trio's music, and the issue here is above all this creature's song. The strange animal howls and paws the ground, billing and cooing before it bounds forward with memories of the blues, flights of lyricism and trances of rhythm filled with finesse and fantasy.
Recorded by Pierre Favrez – Assistant Manuel Aragon, Midilive Studios, December 2017.
Mixed by Pierre Favrez, Studio B média, January 2018.
Mastered by Benjamin Joubert, Biduloscope Mastering, February 2018.
With the support of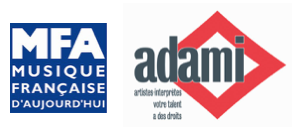 ================================================
================================================