Release date: December 8, 2017
ONJ Records JF005 / L'Autre Distribution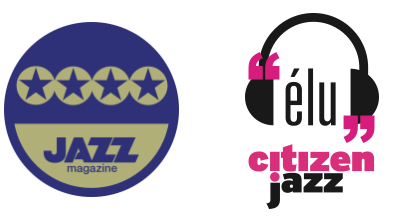 ALEXANDRA GRIMAL tenor saxophone, vocals, bird calls, composition
SYLVAIN DANIEL electric bass
ÉRIC ECHAMPARD drums

================================================
Alexandra Grimal is one of the most gifted saxophonists of her generation, and this album introduces her new trio including two of her fellow ONJ musicians, bassist Sylvain Daniel and drummer Éric Echampard. Dated 2016 ­— a commission from the Scène Nationale in Orleans — kankū unveils music filled with contrasts that evolve into as many fascinating soundscapes.
Alexandra has an intense personality: spontaneous, introspective, and totally committed to music. She sees each new project as an opportunity to meet the challenge of discovering the most acute, the most singular form of expression imaginable. Her universe is populated with references: Zen, calligraphy, the martial arts, and more generally the philosophical ways of thought in the Far East, all of which translate into an attitude of humility paired with the search for efficiency, power and vital energy. This dedicated artist considers the phenomenon of music as a path towards transforming one's self.
When she composes, Alexandra Grimal works as if she were an abstract painter, causing an unsuspected world of sound to emerge through the lines of melody. The music of kankū is a revelation in the fullest sense, in that it discloses a teeming imagination that is hypersensitive: birdsong, Chinese landscapes, the violence of "invisible" warfare, a woman in an ice field, a supernova… each one is a flash of poetry that subtends and amplifies the performance. Not that this musician illustrates such images in a figurative manner; they provide the composer with the medium for her inventions, and they constitute a common language in which her partners can innervate and color their playing.
The global form of the work is not left to chance either. Alexandra Grimal's imagination has conceived different chapters of written music into which the musicians are intended to gradually mutate through their improvisations. She refers to these chapters as "platforms" or "islets", in the manner of the ancient cartographers' allegorical representations of the world, or as the "stations" of an initiatory journey. It is the journey of three musicians who have become immobile travelers in a phantasmagorical universe.
kankū was commissioned by theScène nationale d'Orléans
Recorded by Mathieu Pion, assistant Pierre-Emmanuel Mériaud, Scène nationale d'Orléans, salle Vitez, 2017
Editing Benjamin Maumus, Centre National de Création Musicale Albi-Tarn (GMEA), 2017
Mixed and mastered by Mathieu Pion, Studio Csolfa, Orléans, 2017
With the support of


================================================
================================================